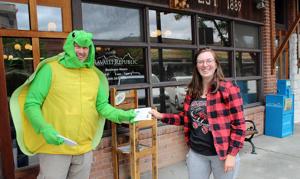 With resolutions from the City of Hamilton and Ravalli County, Soroptimists International of Hamilton will celebrate its 48th anniversary with a Turbo Turtle Derby that benefits Supporters of Abuse Free Environments (SAFE) on Saturday.
Soroptimist Teri Polumsky, chairman of the Turbo Turtle Derby, said that local Soroptimists founded SAFE in the Bitterroot.
"We're excited about our 48 years of service to the community," Polumsky said. "We've been instrumental in many projects through the years but we are most proud of beginning what has become SAFE. So, what a great way to celebrate our birthday — a fundraiser with the focus on SAFE. The proceeds will go to SAFE's Capital Campaign and we are hoping to build an advocacy room."
On Saturday, June 25, 2,000 rubber turtles will splash into the Corvallis Canal and ride the waterway through Hieronymus Park.
Anyone over age 18 can adopt a turtle. Prices are one Lonely Turtle $5, Family of Turtles six for $25, a Turtle dozen is 13 turtles for $50 and a Herd of Turtles is 25 for $100. It's easy to adopt a turtle at theturtlesarecoming.com.
"Our little turtles are just the cutest things," Polumsky said. "They will be dumped in the canal and if our water level continues it will be the fastest race in history. It could be over in the blink of an eye. The first-place prize is $500 so somebody is going to have fun."
On Saturday, watch the Turbo Turtle Derby by following the path and Corvallis Canal to the pond. The winner does not need to be present to win.
Mayor Dominic Farrenkopf will emcee the race in his turtle costume.
"When Teri Polumsky approached me about the turtle race I jumped right on it," Farrenkopf said. "My supreme costumer Hannah found me a turtle suit online."
Soroptimist Patty Martin said in the future they may add more activities but the first year is just the race.
"We are going to have people on both sides of the canal to make sure the turtles don't get caught up in the grass and cattails," she said. "We don't know quite what will happen this year. We have a tube with floaters on each side and the turtles will go through the tube and the first three will win."
The first-place prize is $500, second is $250 and third-place receives $100. After the race, the turtles will be captured and returned to Arizona.
SAFE's executive director Stacey Umhey said the turtle event supports a great cause.
"The word Soroptimists means 'best for women,' so way back in 1987 they were true to their name and identified a need for safety for people who were fleeing domestic and sexual violence," Umhey said. "They formed an organization to make sure our community could provide that safety."
She said that organization is Supporters of Abuse Free Environments, SAFE.
"We're excited to help them celebrate their birthday because they've supported us for 34 years and counting," Umhey said. "This event is going to be super fun and hopefully it will support our efforts to expand our emergency shelter."
SAFE is embarking on a capital campaign to raise $2.4 million to expand its emergency shelter and program space at the facility on Fairgrounds Road in Hamilton.
"We are happy to ring the bell and let folks know we have raised about $1.5 million so far and that is the amount we are needing to move forward with phase one of the project which is the emergency shelter expansion," Umhey said. "We've started on that and are working to raise around $800,000 to go forward with the program expansion part of the project."
She said the forward momentum is exciting even if the reason for the project is sad.
"You have to balance your excitement with the understanding that there is an unfortunate need in our community for safe places for people, particularly for people who have experienced domestic and sexual violence," Umhey said. "It fills our bucket to have this community support and to know that the community has faith in our organization to support this project expansion."