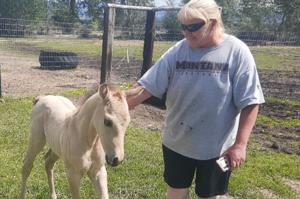 For more than 20 years, longtime Hamilton nurse Violette Hengeveld was the person that others turned to when they needed help.
Following a horrific farm accident on Sunday, Hengeveld's family is asking the community to help their loved one in her time of need.
Kelly Jones of Hamilton first met Hengeveld when she was working at Valley View Estates and Rehabilitation Center. Hengeveld helped care for her great aunt.
"She was very compassionate," Jones remembered. "She gave her excellent care. She just had a way of getting the job done while taking time to explain and share her knowledge."
That compassion and willingness to help however she could was on display again when Hengeveld went to work at Marcus Daly Memorial Hospital, where she spent almost two decades working as a nurse in a variety of capacities.
Jones worked at the hospital during the same time and saw Hengeveld become a mentor to many of the younger nurses.
"I always thought if I ended up in the hospital, I would want Violette and her partner, Tina Gillespie, as my nurses," Jones said. "She has cared for so many people over the years."
But now it's Hengeveld who needs others to help her.
On Sunday, the 55-year-old Hamilton woman was helping to move some railroad ties at the family home up Mill Creek.
Her son-in-law Eric London said Hengeveld put her leg between several railroad ties at the same moment that London's foot slipped off the clutch of the tractor.
Her leg was caught as the ties lunged forward. The resulting accident tore off much of the skin and muscle between Hengeveld's knee and ankle.
She was transported to St. Patrick Hospital in Missoula, where she had emergency surgery. After three days, Hengeveld was flown to Salt Lake City where she has undergone several surgeries and has more to come, including muscle and skin grafts.
A major 12-hour surgery was scheduled for Wednesday. Doctors told the family she would be in intensive care for three to five days and would need to remain completely immobile for two weeks.
From there, she will be moved to a rehabilitation center for an unknown amount of time.
"Her insurance will cover some of the cost, but it looks like the part they will not cover will be significant," London said.
The costs that won't be covered include the $10,000 medical flight.
"She's a pretty strong lady and is handling this fairly well," London said. "But obviously right now she's all alone and she's struggling with that."
Hengeveld worked at the hospital until last year.
"Anyone who has been in the surgery center at the hospital probably knows her," London said. "She worked as a floor nurse. Whenever I go to the grocery store with her, people always stop her to thank her for their care."
"She's one of the most wonderful people that I've ever met," he said. "She takes care of everyone else, but doesn't ask anything of anyone."
London and his wife, Jessica, and Violette's other daughter, Amanda Mcfarland, have started a GoFundMe site to help pay for medical expenses. The site can be found at tinyurl.com/4dc44hhk.