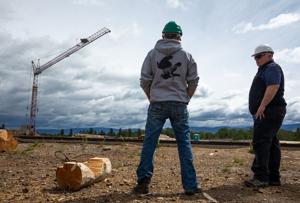 GRIFFEN SMITH

Fifty feet above a lumber yard in the Bitterroot Valley, the same mating pair of ospreys nested on a construction crane for a decade — popular enough to get their own webcam and become fan-favorites of cars passing by.
But on Monday, June 13, the workers at Pioneer Log and Timber noticed something was wrong with the male bird.
It hung upside down from one of the cranes. After a few minutes, it dropped onto the ground, dead from an air-soft pellet that lodged itself in the osprey's torso.
"It's just sad — people should know better," said Darrin Heitmann, director of operations for Pioneer. "That bird had been here longer than me."
The shooting is the first killing of an osprey by gunfire this year, but one of five birds of prey to get shot recently in the Bitterroot Valley. The species is federally protected. Avian activists took notice, X-rayed the bird and are raising reward money for a tip that could identify the bird-killer.
But the mysterious killing is like most osprey shootings: no witnesses, no exact location and no tips. All that's certain is birds of prey are getting shot more, with few repercussions.
Rob Domenech, executive director for the Raptor View Research Institute, said he has noticed an uptick in bird shootings in the Bitterroot Valley and between Missoula and Frenchtown. He attributed some of the increase to more people and more calls for injured raptors, but he thinks a missing link contains those who do not care for the birds.
"The numbers suggest that there is a resurgence of hawk-killers," Domenech said, citing that people could be uneducated and aggressive toward the migratory bird. "It's almost to the point where we get a call for an injured bird every day. It's concerning."
Popular bird
Osprey are intermittently scattered across the continental U.S., and are known for seasonal migrations that could take them from northwest Montana to Cuba in the Gulf of Mexico.
Ospreys also choose partners for life, and usually return to the same nesting site around the same time each year. The raptor was previously endangered after massive exposure to insecticides like DDT. After the U.S banned the insecticide in 1972, the osprey population rebounded.
Threats to the species include attacks from other hawks, baling yarn getting stuck in nests and collisions with vehicles.
"It takes an awful lot of work to establish themselves as an adult," Domenech said, adding that 70% of hatchlings do not survive more than a year.
The mating pair at Pioneer had been together since the two first made their nest at the top of the crane. Workers at the yard enjoyed seeing the birds, and eventually built a permanent wooden box to contain their nest. In 2016, the company installed a webcam to watch the osprey.
"We eventually ran out of bandwidth because so many people were watching the live stream," secretary Emily Howard said. "One time a baby was not getting fed enough and someone called upset from New Jersey."
Eventually the camera was shut down, but not before capturing several seasons of hatchlings and first arrivals. The popularity of the webcam also drew commuters to the side of the highway to watch the raptors in action.
Shootings on the rise
Since the male osprey's death, the female has departed to look for a new mate. New birds have circled the crane nest in search of a permanent home. The killing will not affect the population, but it is adding to the strain of raptor rehabilitation specialists who have seen shooting injuries on the rise.
"Last year we had seven shot raptors, which is high, and now for 2022 we have five," said Brooke Tanner, owner and operator of Wild Skies Raptor Center. The group has attempted to rehabilitate 40 birds shot in western Montana since 2015. Roughly half survive after arriving.
Tanner said the number of raptors coming to her center has increased in the last three years, which she partially attributed to people being more wary of injured animals. But she also noted that the increase of people in Montana will likely lead to more deadly bird encounters.
Tanner can't do much when a bird comes in with a gunshot wound, except call Fish Wildlife & Parks. Still, she wishes more could be done to protect the birds.
"It definitely needs to be improved," she said. "I have never seen anyone convicted of shooting a bird."
Kate Stone, an avian expert at MPG Ranch in the Bitterroot, said conflict between birds of prey and humans gets complicated when defending livestock or pets. Many conflicts have come when owls attack chicken coops or golden eagles attack lambs.
While it is still technically illegal to kill these birds, there is a legal process to defend oneself, Stone said. But ospreys, whose diet is mostly fish, are not likely to attack humans or livestock.
Stone is now raising money as a reward for catching the bird-killer. She said local groups have donated to the fund, including the Ravalli County Fish and Wildlife Sports Club.
"It is not just Fish Wildlife & Parks who is on this," Stone said. "We need everyone to be vigilant.
Looking at the now-empty nest, Heitmann and Domenech analyzed how the osprey died. It could have been from a nearby resident trying to get rid of the bird, or someone sneaked into the yard and shot it. Truth is, no one could really know, and likely won't.
Heitmann, who has gotten calls for people trespassing at Pioneer before, feared someone came for the birds.
"We have a suspicion something is going on," he said, adding that he is purchasing security cameras after the incident. "People notice two things here: the silly things we put on our front sign, and our osprey."